You Can Make A Difference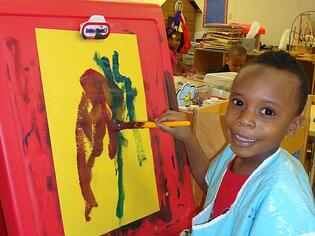 What better way to make a difference in the world than to share your time with a child? Volunteers have a way of establishing a special place in the hearts of the children at our centers. The best part is that the children fill a special spot in the volunteers' hearts too. The children at Child Care of Southwest Florida yearn to be around adult role models who can show them kindness, compassion, and direction. We have a wide variety of volunteer opportunities to choose from at various locations.
Leaping into literacy - This one is for the bookworms. If you love children and love to read you can become a Literacy Leader and spend time reading to the children. Everyone loves a good story, especially children. What better way to instill the habit and love of reading in them than to read their favorite stories?


Receptionist - Are you a people person with a friendly voice? Do you enjoy doing office work and completing tasks on the computer? Our child care centers are frequently in need of someone to answer the phone, greet visitors, and do basic office work and filing.


Light maintenance - Just like homes, our child care centers are always in need on maintenance. We need handy volunteers who have knowledge about making simple repairs to assist our maintenance crew in keep the centers running smoothly.


Landscaping - We want the entrances of child care centers to be warm, inviting, and decorated with greenery. If you have a green thumb and enjoy to plant flowers and trees, we have a special job for you!


Special Events - Are you a talented organizer? Do you enjoy event planning? We are always looking for volunteers to help plan special events, fundraisers, and conferences. This is a fun way to spend your volunteer hours.


One Day Events - This is perfect if you're looking for a one-time volunteer opportunity. At Child Care of Southwest Florida we host one-day work events usually on the weekends where painting, landscaping, and other work takes place that cannot be done during the week. If is especially helpful if you want to volunteer, but you are unavailable during the week.


Grant Writing and Research - We are looking for grant writers who enjoy writing. If you have experience doing research on the web, and/or writing grant money and sponsorship opportunities, we could use your help. This type of volunteering can be done from the comfort of your own home.
Volunteering at Child Care of Southwest Florida can be fulfilling for you and the children at our centers. It can also count as volunteer requirements for high school, college, or court ordered community service hours. To volunteer you must be at least 16 years old and consent to fingerprinting, and a local law enforcement background check if requested.